2ER HOTEL REINE VICTORIA (4*)
Salastrains, St. Moritz.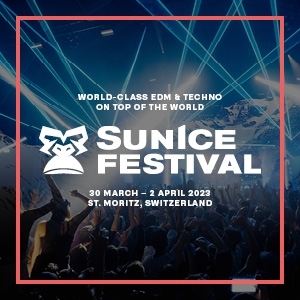 ACTIVITIES & OTHERS
Reserve a Bobsala ride
HERE
Reserve a Moonbike ride
HERE
This event is for 18 and over - No refunds will be issued for under 18s.
More information about 2ER HOTEL REINE VICTORIA (4*) tickets
Die SunIce Lifestyle Experience

Neu an 4 Tagen statt an 3.

Nach einem unvergesslichen und restlos ausverkauften SunIce Festival 2022, wird die 2023er Ausgabe des SunIce Festivals neu an 4 statt an 3 Tagen stattfinden:

Donnerstag, 30. März - Sonntag, 02. April 2023.

4 Tage voller Lifestyle, Sport, Adrenalin, Abenteuer, Liebe, Leidenschaft und Musik.
4 Tage voller kreierten Erinnerungen, geteilten Erlebnissen und unvergesslichen Momenten.
4 Tage SunIce, 4 Tage St. Moritz, 4 Tage Leben pur.

Neben einem gewohnt einzigartig hochkarätigen Line Up und abenteuerlichen Wintersportaktivitäten, erwartet dich dieses Jahr ein noch grösseres Festival Village, eine noch grössere Openairstage und eine noch grössere (zweistöckige) Mainstage! Und natürlich noch das eine oder andere aktuell noch geheime Highlight.

Die 4-tägige Weekend+ Variante ist ab CHF 199.90 erhältlich, die Standard Weekendpass Variante ab CHF 179.90 und die 1-Tagespässe Freitag und Samstag ab CHF 99.90 resp CHF 109.90.

Aufgrund dem restlosen Sold Out des SunIce Festivals 2022 bereits 3 Wochen vor Türöffnung, wird das SunIce Festival 2023 beachtlich vergrössert werden.

Doch trotz massiver Vergrösserung, sind auch dieses Jahr die Anzahl Tickets begrenzt. Und die Nachfrage danach entsprechend riesig.

So better be ready, schnapp dir dein Early Bird und freu dich bereits jetzt mit uns auf kommenden März 2023, um so richtig wieder im SunIce Style feiern und leben zu können!


Line Up release sowie Hotel Packages folgen in den kommenden Wochen - stay tuned!


Lots of Love
Your SunIce Team.